Auto and Work Related Injury Care at
Health & Wellness Chiropractic
What To Do After an Accident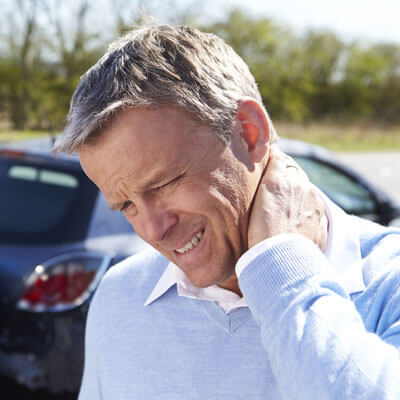 If you have been involved in a motor vehicle accident you will need to make an appointment for a brief, but thorough, examination. Often, individuals involved in motor vehicle accidents experience minimal or no symptoms for the first few weeks and even months. It's important to not only receive immediate and appropriate treatment for any injuries sustained, but also to document the extent of the injuries, if present.
Timely Matter Evaluation
Failure to obtain a timely evaluation or appropriate treatment for injuries sustained in a motor vehicle accident may negate your ability to receive monetary compensation for any future medical bills resulting from the accident, negate your ability to receive pain and suffering settlements, and negate compensation for work loss.
We Will Determine
When you come in, we will determine:
The extent of the injury or injuries
The number of estimated treatments required to treat your injuries
If referral to another medical specialist is required
If special tests are required (i.e. MRI, CT Scan, etc.)
If you need to take "injury time off" from work (and provide you with a note to present to your employer)
National Safety Council (NSC)
According to the Insurance Research Council, nearly 1/3 of all claimants injured in motor vehicle accidents (MVA's) seek treatment from chiropractic doctors. This is an impressive number given that the National Safety Council (NSC) has determined there to be more than 12 million MVA's annually involving more than 20 million vehicles.
​Natural Treatment of Choice Relating to MVA's
The reason individuals like yourself choose chiropractic care for treatment of injuries sustained in MVA's is simple – chiropractic care is exceptional in the treatment of soft tissue injuries, especially of the spine. Since the most common injuries associated with MVA's are sprains and strains of the spinal muscles and ligaments, it's only natural that chiropractic be the treatment of choice.
Health & Wellness Chiropractic Studies in Livermore
Many studies have also found individuals injured in MVA's prefer chiropractic care for the treatment of their injuries. One such study evaluated 190 whiplash injury victims and found those who received chiropractic care reported treatment satisfaction of 100%.
To Assist You Easily
We have an excellent source of basic as well as in-depth information to assist you in any workers' compensation question you may have.
If you experience difficulty finding the answer to your questions, please contact our office directly. We can answer most of your work comp related questions, as workers' compensation cases make up a significant portion of our practice.
Common Work Related Injuries
Musculoskeletal disorders (MSDs) include a group of conditions that involve the nerves, tendons, muscles, and supporting structures such as intervertebral discs. They represent a wide range of disorders, which can differ in severity from mild periodic symptoms to severe chronic and debilitating conditions.
Examples includes:
Carpal tunnel syndrome
Tenosynovitis
Tension Neck Syndrome
Low Back Pain
California Studies – Chiropractic Patients Get Back To Work Sooner
In this study, Richard Wolf, MD followed 500 individuals sent for chiropractic treatments and 500 individuals sent to medical doctors for treatment. Those who received chiropractic treatments returned to work in an average of 15.6 days vs. 32 days in those who received treatments from medical doctors.
(Industrial Back Injury. Wolf CR. International Review of Chiropractic – 1974;26:6-7.)
Notice to California Residents – Making a false or fraudulent workers' compensation claim is a felony subject to up to five years in prison or a fine of up to $50,000 or double the value of the fraud, whichever is greater, or by both imprisonment and fine.
Have You Been Hurt?
Contact us today to get started before it's too late.
CONTACT US »

Auto and Work Related Chiropractor Livermore Brentwood, Mountain House, Tracy CA | (925) 583-5888