About Us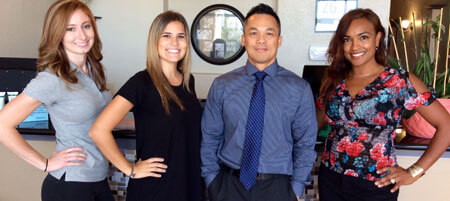 Established by Dr. Pham in 2014, Health & Wellness Chiropractic proudly provides compassionate care to Livermore and surrounding areas. Our holistic approach to health care allows us to offer our patients the lasting relief and long-term wellness they deserve.
Learn more about our warm, comfortable practice. We have a place for you!
Stability First
Our mission is to help our patients feel better through natural health care alternatives. Before performing any type of chiropractic manipulation, we evaluate the whole body and correct any problems located in the soft tissue. It is important to us to use acute care to stabilize your condition prior to taking further action. Ultimately, this allows for a deeper, more effective chiropractic adjustment.
When it comes to your health, we are concerned about your nose to your toes!
Success Is Within Reach
From patients with mild back pain to patients with chronic illnesses – we have seen it all.
Years ago, Health & Wellness Chiropractic cared for a man who had been suffering from constant neck pain and ringing in the ears. After only a few chiropractic adjustments, his symptoms subsided and he was able to return to life as he once knew it. Similarly, we had a runner come to us with severe knee pain. At the time, she was considering undergoing knee surgery to relieve her discomfort. Her function was restored and she was running comfortably after two appointments.
With our practice, success is within reach! Why wait to feel better? Dr. Pham is ready to get to know you and help you live a healthier, happier life.
MEET DR. PHAM »
Contact Us to Get Started!
Today is the day to begin your wellness success story! We are here to listen to your concerns, assess your needs, and provide you with the absolute best care we can. Contact our practice to learn more about what we have to offer your condition – you will be glad you did!

About Health & Wellness Chiropractic | (925) 583-5888